FW23 - NOMAD
The desert is the great metaphor for getting lost and finding oneself. Amotea's FW2023 "Nomad" collection draws inspiration from this concept.
The East, the desert sand and all its shades: beige, toffee and khaki. Simple and natural colors, discreet and warm at the same time, are interpreted by a series of very light blousons, cabans, canvas pants and skirts, animal-print silk dresses in warm tones of caramel brown and blouses with sloping shoulders.
Cut-out jersey garments are made feminine and soft through the art of draping and embellished with black onyx stones to mix with knitwear.
With sophisticated pieces in impalpable wool gauze, the brand aims at always preserving ancient traditional crafting techniques and, always experimenting with new processes, this season incorporates fine mohair and alpaca yarns mixed with cotton.
The iconic fringes are never missing, just like new techniques such as fur stitching.
An understated elegance for contemporary Travelers, with almost classic pieces, recreating Saharian atmospheres through colors in neutral tones, the softness of knitted and jersey garments, and the crispness of taftas. The brand continues on its path towards sustainability as an essential value and its main mission, while working with the excellence of Italian companies and approaching the production processes consciously and responsibly.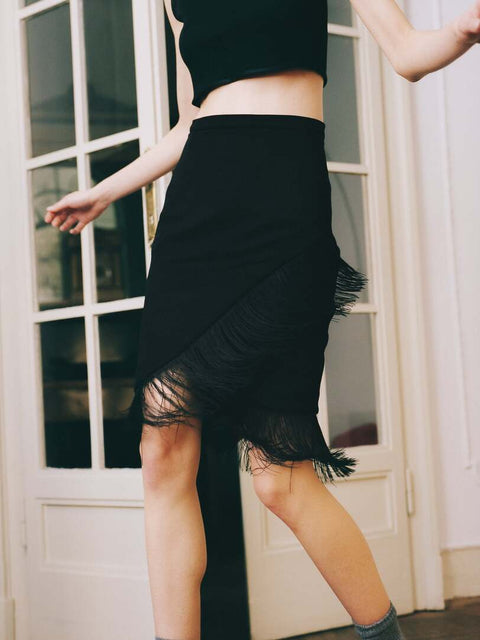 who's wearing amotea
PERNILLE TEISBAECK
Stunning Pernille in our Cara Jumpsuit in black knit.